Banner Options
---
Below is a list of options offered for banner finishing. All of our banners are single sided, digitally printed on high quality 13oz banner material.
Grommets
Banners meant to be displayed outdoors or for extended periods of time should utilize the grommets option.
Grommet options include silver colored grommets on all four banner corners.
Larger banners will include grommets placed every 2 feet on top & bottom if applicable.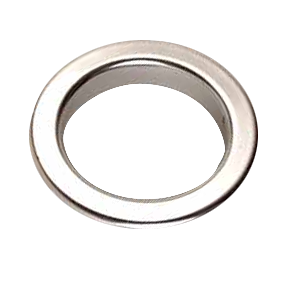 Currently our banners are offered with the following grommet configurations:
36 in. x 18 in. – Grommets in 4 corners
60 in. x 30 in. – Grommets in 4 corners
96 in. x 48 in. – Grommets in 4 corners, plus 3 on top and bottom

Tabs
Tabs are recommended for short-term or temporary indoor usage. Banners ordered with tabs are not provided with tabs applied.
Adequate tabs are provided according to banner size ordered and intended placement is the same as grommets.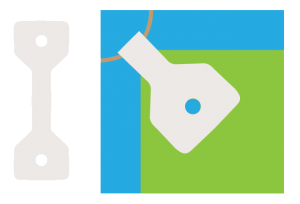 Tape & Fold
Banner edges are folded over and double-stick banner tape is used to secure the folded edge.

Cut Edge
Banner edges are straight cut and lay flat with no folded edge.

T-Shirt Options
---
T-shirt sizing measurements:
| | | | | | | |
| --- | --- | --- | --- | --- | --- | --- |
| T-shirt Measurements | S | M | L | XL | 2XL | 3XL |
| Body Length | 27 | 29 | 31 | 32 | 33 | 34 |
| Body Width | 18 | 20 | 22 | 24 | 26 | 28 |
Maximum T-Shirt Imprint Area
The maximum area that can be imprinted is 14 inches wide by 17 inches tall.
Please note that this may limit the coverage area of shirt sizes greater than X-Large,
and that the appearance of imprints may vary in scale between small and large garments.
Business Card Options
---
Business cards are printed on 16 point card stock and feature glossy UV coating on both sides.
Full bleeds, where artwork extends to the card edges, are included in pricing.
Aluminum Can Decal Options
---
Can decals are intended for use with standard 8 ounce aluminum cans.
It is recommended that the decals be applied to a dry can surface for proper adhesion.
RZR Decal Kits
---
Base Materials that Graphics are Printed Upon:
Silver Metallic Vinyl- Silver reflective wrap vinyl. Please note that the grey or silver color of the vinyl can make colors appear darker than on your website design preview.
White Vinyl- White wrap vinyl
Laminate Overlay Materials:
Clear Matte Laminate- Clear laminate overlay with a flat matte finish
Clear Satin Laminate- Clear laminate overlay with a satin semigloss finish
Clear Gloss Laminate- Clear laminate overlay with a shiny gloss finish. Ideal for Silver Metallic Vinyl.